Autotronics offer the full range of Parrot car kits to suit every requirement and budget. Check out the details below and remember that prices include 'on site' mobile fitting.
Autotronics are a Certified Parrot Installer member

PARROT CK3100 LCD Bluetooth hands free car kit comes with a LCD display enabling you to actually see who is calling you as well as missed and recieved calls. Phone signal and battery strength are also displayed. Sound comes through radio speakers as well.
€235 Fitted.
PARROT MKi9200 A full system dedicated to conversation and music in car with Color TFT 2.4' dot matrix Screen.
Made for iPod and works with iPhone this top of the range car kit will charge and play all your music, and podcasts and will shorten the longest of journey. It will also accept music inputs from other MP3 players, USB memory key and SD cards. A wireless remote control ensures that you are always in full control while still driving safely. Four speaker amplified output ensures premium sounds.
€295 Fitted.
Autotronics also supply and install the full range of Nokia Car Kits:

Nokia Car Kit CK-100 is our base model Bluetooth car kit which is compatible with an extensive range of mobile phones and smart phones. This kit has the ability to stream music from your phone and play it through the car radio speakers. It also has redial and voice command capability. The new click wheel will look good and unobtrusive when installed into any vehicle especially a classic car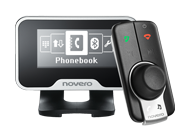 Novero Truly One Car kit
€245 Supplied and fitted
Autotronics are Novero Certified Installers for the complete range of car kits and the Truly One model offers the customer a full featured display with the ability to play music over Bluetooth and through their radio speakers, it also has the ability to pair two phones at the same time, ie office and personel phones
While Bluetooth technology is the way of the future, it's not for everyone and Autotronics can supply and fit car kits for most of the older models of phones like some shown below...
Complete Car Kit CK-91
Complete kit combines the convenience of hands free with optimal sound quality.Fits the older mobile phones such as 6210,6310 & 6310i.


......€195 Supplied & Fitted


Advanced Car Hands-free car kit CK 7W-15
Sophisticated car hands free for stylish design, best performance and traffic safety.This car kit has a dedicated cradle with Blue tooth option and will fit the more modern mobile phones like the 6100.6220,6230 & 6230i

€230 Supplied & Fitted



We can offer on-site hands-free car kit installations within the greater Dublin area. Our own experienced installers will come to your home at a time to suit you and professionally install your car kit within a couple of hours. Further a field installs are possible for an extra surcharge dependent on distance. We are also able to de-install and re-install car alarms between different cars.
Our trained installers are also able to diagnose and repair the majority of faults with existing installations. Please call for details. Our installers are generally available Monday to Friday.