Cruise Control
Autotronics are agents for Gold Cruise Control.
GoldCruise command modules offer all the convenience and functionality found on any aftermarket cruise control system and in some cases more. The different styles and designs of comand module give all the options necessary to fit cruise to 99% of road vehicles - whether they be a stalk on the steering column, dash or steering wheel mounted.
c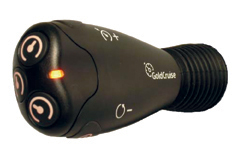 Cruise control sytems not only take the work out of driving thus reducing driver fatique, it could save you on fuel costs as well as points on your licence!!!
The completed installation gives a factory fitted look which will add value to your car.
Reversing Cameras
We offer a wide selection of reverse cameras to suit all situations, from heavy duty cameras for track machines and lorries to discreet number plate cameras. You can also have the options of sound, and night vision as well as a selection of monitors.

Reverse Sensors
Autotronics can supply and install reverse sensors to suit all cars. These sensors are colour coded to your vehicle's colour and fit flush to it's bumper those giving it a factory fitted finish.